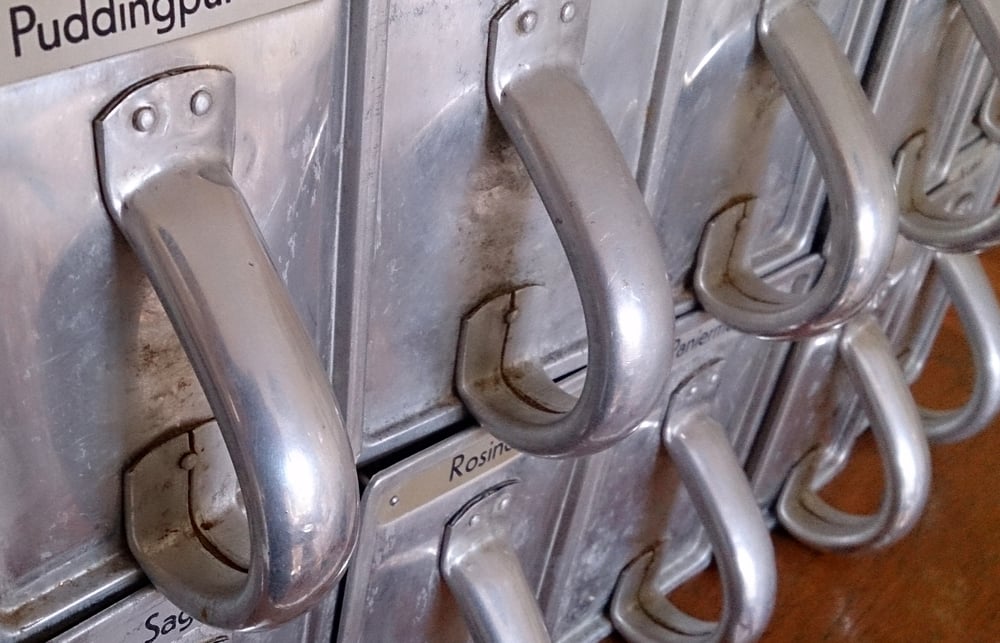 Frankfurt Kitchen by Ernst May and Grete Schütte-Lihotzky
£

1,250.00
---
---
ROOM 606 HAS MOVED. PLEASE GO TO ROOM-606.COM FOR THE EXCITING NEW INVENTORY OF ITEMS
Historical background
In 1926 Ernst May invited the Austrian architect Grete Schütte-Lihotzky, who had been working with Adolf Loos in Vienna, to be a part of an ambitious project to create new settlements of affordable social housing in Frankfurt.
His New Frankfurt plan aimed to mobilise a new type of architecture - using the latest materials and construction methods - to address an acute housing shortage in the city. This had been caused by the economic crises that had gripped Germany in the aftermath of the First World War, culminating in a period of hyperinflation.
At the centre of May's large-scale development scheme – a project that would successfully house ten percent of the Frankfurt population in new modernist dwellings by 1930 – was Schütte-Lihotzky's remarkably progressive fitted kitchen.
Each Frankfurt Kitchen was equipped with a stool, a gas stove, a fold-down ironing board and a concealed wastebin.
Built-in storage was provided in the form of cupboards incorporating rows of small removable aluminium drawers, of which the one shown in this listing is a rare survivor. The drawers offered immediate access to everyday dry ingredients like rice and sugar and had pull handles at the front and spouts at the back for easy pouring.
The third image is a scan of an original postcard (not included in this sale, though I'm happy to provide a scan for the buyer) showing an installation of the Frankfurt Kitchen at the Deutscher Werkbund's Die Wohnung expo of 1927. The event, which involved among others Behrens, Gropius, Le Corbusier, Mies Van Der Rohe and Oud, provided an opportunity for May and Schütte-Lihotzky to showcase their vision of egalitarian housing settlements to an international audience. This exposure eventually resulted in an invitation - three years later - from the Soviet Union to reproduce New Frankfurt-style developments on a truly mass scale.
Size:
Each drawer measures approximately 130mm wide x 160 high x 290 length.
Labels:
Each storage drawer has a stamped label, fixed with tiny screws. They read as follows:
Zucker (Sugar)
Reis (Rice)
Griess (Semolina)
Haferflocken (Oatmeal)
Starkmehl (Cornflour)
Sago
Puderzucker (Icing sugar)
Puddingpulver (Blancmange powder)
Paniermehl (Breadcrumbs)
Rosinen (Raisins)
Nudeln (Noodles)
Verschiedenes (Miscellaneous)
Condition:
Good to very good well-used condition. There is expected aged related wear to the surfaces and a couple of knocks here and there but no significant damages such as cracks or signs of restoration/repair.
They will look stunning given a new lease of life in the right setting. A previous collection of mine was sold to a famous interior designer to be shown on US TV next year - I am looking forward to seeing the results!
Text and photographs © Room 606. All rights reserved.